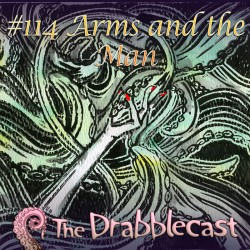 Courtney had never considered squid love before.  She was an accountant for a Chicago restaurant chain, and not really looking.  After a bitter, acrimonious divorce, Courtney was burned out on romance…
In this episode of the Drabblecast, Norm Sherman presents a Drabble News segment on the Hubble, topped off with a now infamous bbardle on satellites and how best to pimp them. In the Drabble, a typical geek is ignored by the pretty popular girl, that is until a very atypical bomb throws unusual wrinkles. In the feature, Arms and the Man, a divorced woman, burned out to love, finds hope and love with a change of phylum – truly squidlicious!
Podcast: Download
Originally published in Interzone, #130 April 1998.
Episode Art:
Alyssa Suzumura
---
---