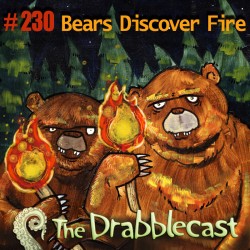 We stayed on the path.  The light seemed to drip down from the canopy of the woods like rain.  The going was easy, especially if we didn't try to look at the path but let our feet find their own way.
Then through the trees I saw their fire…
This episode of the Drabblecast examines humanity through anthropomorphism. In the drabble, peacefully grazing sheep get unexpected visitors who reveal that the sheep are not exactly what they seem. In the feature, when bears discover fire, stop hibernating, and begin populating highway medians in the southern US, their changing behavior highlights how a family's members react to changes in their own lives with varying degrees of acceptance and grace.
Podcast: Download
Subscribe: Apple Podcasts | Android | Stitcher | TuneIn | RSS
---
As snakes devoured me, I understood: I never should have shopped at Bed, Bath and Beetlejuice Beetlejuice Beetlejuice.
---