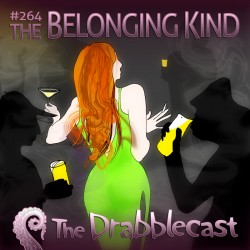 It might have been in Club Justine, or Jimbo's, or Sad Jack's, or the Rafters; Coretti could never be sure where he'd first seen her. At any time, she might have been in any one of those bars. She swam through the submarine half-life of bottles and glassware and the slow swirl of cigarette smoke… she moved through her natural element, one bar after another.
Now, Coretti remembered their first meeting as if he saw it through the wrong end of a powerful telescope, small and clear and very far away.
Podcast: Download
Originally published in Shadows 4, (Oct 1981, ed. Charles L. Grant, publ. Doubleday).
Episode Art:
Kathleen Beckett
---
Twabble:
"Thursday was a dream come true for Arthur. Unfortunately for him it was that one where you find yourself naked in school. "
by
PhineasQP
---
---