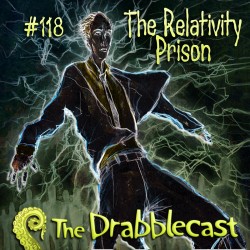 It took weeks for me convince myself that my condition is universal, and I'm still not entirely sure. It's almost always something in the eyes, and sometimes also in the corners of the mouth. Resignation. I had to learn to look for it. Otherwise, the illusion of volition is perfect. Everyone looks as if they're just going about their business, even as their business is going about them…
This episode of the Drabblecast begins with a hilarious Drabble News'cast – host Norm Sherman alerts us to the threat of monster jellyfish taking over the oceans. Is it time for government intervention? And what is this about mutant sea turtles? A Drabble follows featuring a time traveling alien and its special message for a hairy young man. The feature story is a thought-provoking exploration of reality, as we know it. If humanity was to be punished, would there be any punishment more fitting than to watch their lives unfold from a distance.
Podcast: Download
Originally published by Abyss & Apex, October 2005.
Episode Art:
Bo Kaier
---