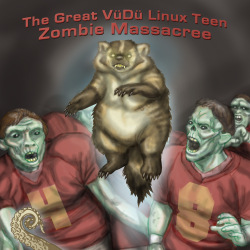 Bob and I attracted a pack of zombies when we stopped to fuel up at the Texaco in Buffalo Springs. I hoped we'd lost them, but hope was all I had. Bob said they were the fresh remains of a high school football team who'd been drowned and de-souled by water daemons at a lakeside party.
Young, strong corpses have the speed and stamina to run down a deer. Until the sun and wind finally turned their flesh to stinky jerky, they'd be dangerous enough to make a vampire shit bats. And fresh zombies are persistent as porn site pop-up ads. If they take a shine to the smell of your blood, they might track you for days, stopping only if live meat falls right in their laps.
Drabblecast B-Sides: Donate
This story first appeared in the book
Installing Linux on a Dead Badger
, published October 2007.
Episode Art:
Aaron Siddall
---