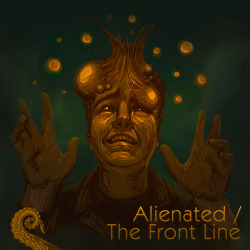 Alone — but not lonely.
Three days, we've been on this planet. Over a year, Earth-time. But we don't talk about Earth-time anymore. It weakens morale, says Sir Overgeneral Halfish.
My morale went out the window when I found out that I was sentenced to be transported off planet.
Podcast: Download
Alienated
first appeared in
Nature Physics
, October 2014.
Old Flames
first appeared in
Daily Science Fiction
, November 2012.
Episode Art:
Mary Mattice
Read by:
Naomi Mercer
---
Twabble:
"The alien evolved to be cute and cuddly as a reproductive strategy. That explained the wave of immaculate conceptions. "
by
groomporter
---