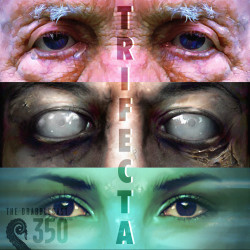 Izam's fingers moved on their own. They found his sunken chest. And counted his ribs.
His father would have slapped his hand away. A stupid habit of a stupid boy. A stupid starving boy who counted his ribs when he was hungry even though it only made him hungrier. Izam knew it was stupid
but he could not help it. He was so hungry.
The ocean was silent. The boat was still, the fishing line as motionless as ever. The last rays of sun sparkled on the waves. There would be no fish today. No food. Izam's fingers brushed his chest and began counting his ribs again. No food for another day.
The line tugged. The rod tore from his hand.
Podcast: Download
Cover art photo credits
Mary Galloway
,
Ayeshamus
, and
Juan Gonzalez
.
Kinda Like Salmon
first appears here, in
The Drabblecast
.
In the Eyes of the Needy
first appeared, as
Mermaid
, in
Daily Science Fiction
, February, 2014.
Sea Changes
first appeared in
Ideomancer
, September 2008.
Episode Art:
Bo Kaier
Read by:
Nathan Lee, Tina Connolly
---
Twabble:
"Forms combine and break apart, only to rejoin. Again and again. What is that place where I gasp for breath, above the sky? "
by
pondspider
---