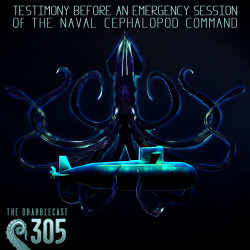 The squid is a solipsistic psychopathic God with a lust for submarine hull and a mandate from Ronald Reagan branded on its hunting tentacles. It sweeps east from Iceland in the cold under the
thermocline, alone in the dark, solitary lord of a solitary place.
Podcast: Download
A Drabblecast original.
Episode Art:
Bo Kaier
---
Twabble:
"The embers ignited the birch, ice water rushed in and Nanook realized that you just can't have your kayak and heat it too. "
by
Kbilly
---