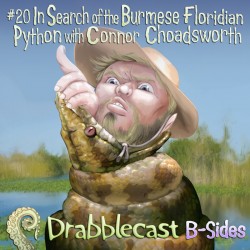 Pallid, oddly-accented Cryptozoologist  Connor Choadsworth and his slack-jawed, knuckle-dragging camera man Jeff journey deep into the Florida Everglades in search of the elusive and decidedly misplaced "Burmese" python…
This is en exclusive video podcast available only to Drabblecast $10.00 a month subscribers.  Subscribe and support your favorite podcast!
Drabblecast B-Sides: Donate
A Drabblecast original.
Episode Art:
Bo Kaier
---