Update (Sunday, July 06, 2014):
Drabbleclassics 3 – The Tentacled Sky
Feature:
The Tentacled Sky
by
Jay Lake
Drabble:
Packets
by
Rish Outfield
Genres:
Drabbleclassics Horror
Original Episode:
178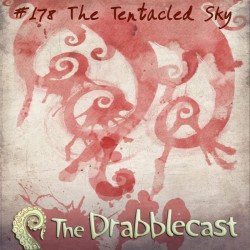 Wednesday, September 1st, 2010
The note itself simply read, "TUESDAY 7:13 PM".
Unsigned, undated, unadorned. Stuck into my door, just above the latch where I'd be sure to find the note immediately upon my return from my errands about the city…
A Drabblecast original story.
Episode Art:
Elan Trinidad
The Dunesteef
Twabble:
" Overpopulation by the virus in Tom gave his body a fever and the virus perished from the consequences of climate change. " by
Screaminspace