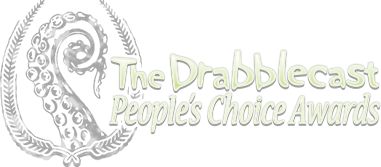 Select your favorite of the 5 nominated Drabbles to determine this year's People's Choice Award winner. Poll will run until
Monday 3/25
. Poll also running on facebook - please vote only once.
The Plea
by Bellcast
A man experiencing Phantom Limb Syndrome with a reattached arm is unsettled when his arm writes 'Help Me.'
Trolling
by Jeff Johnston
The monster under the bed falls for the bait of a child's dangling love.
My Wife, the Star
by PhineasQB
A powerful alien star-being inhabits a man's wife one day and does not take kindly to the man's objection.
Aversion Therapy
by Nathan Lee
A new dieting trick: food is given personality to discourage over-eating. Sadly, the weak-willed simply feel guilty for the inevitable slaughter of hapless snacks.
The Politics of Time Travel
by David Medus
A man is denied sole use of time travel technology, so he travels back in time to fix the situation.