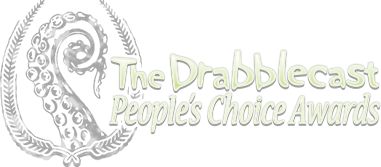 Once again, it's time for the Drabblecast People's Choice Awards!
So,
please nominate your favorite
: Stories, Drabbles, Twabbles, and Cover Art -- from among the lists provided in the nomination threads. You may nominate up to 5 in each category.
Nominate Stories thread
Nominate Cover Art thread
Nominate Drabbles thread
Nominate Twabbles thread
Nominations close Sunday, April 19th, 11:59PM, PDT.
Once the nomination round is finished, we will all then vote on the top 5 nominees, in each category, to determine the winner(s) of the
Drabblecast, Sacred Chalice of Glory
.