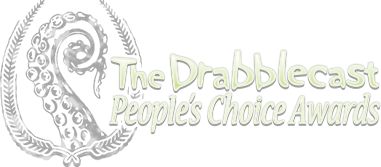 Best Story
Please nominate your favorite stories from the last Drabblecast year. Choose from Episodes 312 through 351, and B-sides 40 through 58.
Important A:
This is the best
story
award, which means:
Interview and filk podcasts have been ruled ineligible.
For double-headers and trifectas, vote for the individual story, EG: 317A or 317B, not the episode.
Important B:
Only stories whose authors were alive at the time they signed their contract with Drabblecast are eligible. Also, stories by Norm himself are ineligible.
In accordance with the above, the content of the following episodes is
ineligible for best Story:
312, 318, 334, Bsides 40, Bsides 41, Bsides 43, Bsides 45, Bsides 50, and Bsides 52
---
Instructions:
Nominate your 5 favorite episodes in a reply, below.
Please include the episode number for each of your nominations.
Nominations close April 19th.
---
Episode List:
Links are provided to both the audio/main page for each episode and for the forum thread for the same.
313 & 314
(
audio part 1
,
audio part 2
|
forum
)
The Blue Celeb by Desmond Warzel
When me and Joe got home from Vietnam, we went into business together, cutting hair. Bought a little shop in the old neighborhood and been there ever since. Back then, wisecracking Harlem barbers weren't a cliche yet — at least not south of 110th Street.
315
(
audio
|
forum
)
Heaven is a Place on Planet X by Desirina Boskovich
The world was expected to end on Friday, at precisely 5 p.m., eastern daylight time. This was not a forecast, or a projection: it was more like an appointment.
316
(
audio
|
forum
)
A Memory of Seafood by Tina Connolly
This week's column is not about a restaurant, exactly, but about a memory. A distinct and painful memory, like a softened tooth you can't help but poke at with your tongue to see if it still hurts.
317
(
audio
|
forum
)
Doubleheader XIV
317A Harmonies of Time by Caroline M. Yoachim
317B A Crown of Woven Nails by Caroline M. Yoachim
You do not know me yet, my love, but I can hear you in my future. You are there from the beginning–at first just a few stray notes, but your presence quickly grows into a beautiful refrain.
319
(
audio
|
forum
)
Trifecta XXVII
319A My Hero: The Fisherman by Jack Handey
319B The Tunnel by Ben Loory
319C The Something by B.J. Novak
A Drabblecast story slam with 3 very entertaining stories.
320
(
audio
|
forum
)
Half a Conversation, Overheard While Inside An Enormous Sentient Slug by Oliver Buckram
Thank you, Inspector. I'm ready.
Yes, I understand my rights as a resident extraterrestrial. No, that won't be necessary.
Of course. Ask me anything. I only wish to see justice done.
321
(
audio
|
forum
)
The Goat Cutter by Jay Lake
The devil lives in Houston by the ship channel in a high-rise apartment fifty-seven stories up. They say he's got cowhide sofas and a pinball machine and a telescope in there that can see past the oil refineries and across Pasadena all the way to the Pope in Rome and on to where them Arabs pray to that big black stone.
322
(
audio
|
forum
)
The Carnival Was Eaten, All Except the Clown by Caroline M. Yoachim
The magician's table was covered by a sheet of plywood, four feet square, completely wrapped up in aluminum foil. Sugar magic was messy magic, and the foil made for easier cleanup.
323
(
audio
|
forum
)
Missed Connection by Michael Marshall Smith
Lawson was already regretting the decision to go shopping by the time he was standing in line waiting to buy a ticket for the tube... All in all he was beginning to feel like death cooled down, and he was barely on step one of the afternoon.
324
(
audio
|
forum
)
The Ball Room by China Miéville
It's on the outskirts of town, a huge metal warehouse. Full of a hundred little fake rooms, with a single path running through them, and all the furniture we sell made up and laid out so you can see how it should look. Then the same products, disassembled, packed flat and stacked high in the warehouse for people to buy. They're cheap.
325
(
audio
|
forum
)
Jackalope Wives by Ursula Vernon
The moon came up and the sun went down. The moonbeams went shattering down to the ground and the jackalope wives took off their skins and danced.
326
(
audio
|
forum
)
The Last Tiger by Tracie McBride
Hunger has made you reckless. You track the sound of human voices through the woods until you find a man and a woman.
327
(
audio
|
forum
)
Tree, Fire, World by Desirina Boskovich
And so it came to pass, in the years past reckoning, when I served as a scribe in the court of the king, that there stood the last and only tree.
328
(
audio
|
forum
)
Local Delicacies by Fran Wilde
My boss, Danny, liked to brag that El Corazon was the best Tex-Mex restaurant just off the Vegas Strip. "Because of you, Bescha," he'd say to me. "You keep the customers happy. You keep me out of trouble."
329
(
audio
|
forum
)
The Gravity Mine by Stephen Baxter
Call her Anlic. The first time she woke, she was in the ruins of an abandoned gravity mine. At first the Community had chased around the outer strata of the great gloomy structure...
330
(
audio
|
forum
)
Trifecta XVIII
330A Earth Music by Miriah Hetherington
330B Golden Age of the Paleozoic by Ken Liu
330C Weekend with an Owl God by Frank Key
Stories exploring 'changes of heart'.
331
(
audio
|
forum
)
Night of the Cooters by Howard Waldrop
Sheriff Lindley was asleep on the toilet in the Pachuco County courthouse when someone started pounding on the door.
332
(
audio
|
forum
)
Mister Bob by Dan Campbell
Miss Sanderson reached out and tapped the translation device on the table, then picked it up and fiddled with its settings. She was the ugliest female of her species I'd ever seen– obscenely symmetrical features, pale hair and complexion, long limbs–and yet forever twirling a finger in her hair like she was trying to proposition me.
Disgusting!
333
(
audio
|
forum
)
After the Cure by Carrie Ryan
I was shot with the cure in the dark. Later, someone would tell me it was a Tuesday, but before the tranq dart I didn't know such a thing existed. It was either day or night, hungry or sated, alive or dead.
335
(
audio
|
forum
)
To Whatever by Shaenon Garrity
To whatever lives in the walls—
Please stop taking my half & half.
336
(
audio
|
forum
)
The Mouth of God by Ramsey Shehadeh
You're kneeling on the bridge. It's late afternoon. Clouds mass low in the sky, seagulls wheel over the bridge spans, humidity hangs thick in the air. Cars speed by on either side of you, the whoosh of their passage filling your ears.
337
(
audio
|
forum
)
The Only Game in Town by Desmond Warzel
Walking back up the road toward home, I saw Rich Hartzell locking up his cabin. His car was stuffed to the roof with cardboard boxes and black trash bags; only the driver's seat was empty.
338
(
audio
|
forum
)
The Crevasse by Dale Bailey and Nathan Ballingrud
What he loved was the silence, the pristine clarity of the ice shelf: the purposeful breathing of the dogs straining against their traces, the hiss of the runners, the opalescent arc of the sky.
339
(
audio
|
forum
)
Trifecta XXVIII: Offbeat Afterlife
339A Listening to it Rain by Sandra Odell
339B Passengers by D.R. Grahl
339C Paperclips and Memories and Things That Won't be Missed by Caroline M. Yoachim
The ghost in my attic is Margaret, but she lets me call her Margie. She was seventy-six years old when she died, and now that she's a ghost she sits in her rocking chair day and night, holding a tiny baby in her arms.
340
(
audio
|
forum
)
On a Clear Day You Can See All the Way to Conspiracy by Desmond Warzel
You're listening to the Mike Colavito Show on Cleveland's home for straight talk, WCUY 1200. The opinions expressed on this program do not reflect those of WCUY, its management, or its sponsors.
341
(
audio
|
forum
)
The Litany of Earth by Ruthanna Emrys
After a year in San Francisco, my legs grew strong again... Every morning and evening I walked, breathing mist and rain into my desert-scarred lungs, and every morning the walk was a little easier.
342
(
audio
|
forum
)
I'm Bill Kurtis by Victor Schultz
The first thing Nate said to Kelly, once their Ford rolled to a stop on the shoulder was, "This is serial killer country. We're finished."
343
(
audio
|
forum
)
Captain Confederation by Jim Robb
Last month Transport Canada had proposed a regulation requiring superheroes to take off and land from helipads unless actually fighting crime, and for some inexplicable reason the Department of Superhero Affairs had gone along with it.
344
(
audio
|
forum
)
Doubleheader XV
344A Sing, Pilgrim! by James Patrick Kelly
344B Suspicious by James Patrick Kelly
The chair first appeared on a Thursday afternoon on the sidewalk in front of the Dollar Bank and Trust on Lancaster Street in Pulaski, Kansas. Nobody saw how it got there.
345
(
audio
|
forum
)
Cat With Blue Fur Trifecta
345A Meow Meow Bang Bang by Oliver Buckram
345B Nine-Lived Wonders by Rachael K. Jones
345C Seven Things That Are Better in Blue by Jason K. Jones
A collection of stories from the Cat With Blue Fur Writing Contest.
346
(
audio
|
forum
)
Remission by M.M. Pryor
Susan found her boss's feelings drawer by accident... It had been all the rage five years ago, getting your feelings surgically removed...
347
(
audio
|
forum
)
Why I Hate Zombie Unicorns by Laura Pearlman
The good news is, zombie unicorns almost never bite. The bad news is, even a tiny scratch from a zombie unicorn horn will turn you into a zombie. Mom discovered that by accident.
348
(
audio
|
forum
)
DoubleHeader XVI: LiAnn Yim
348A A Forest Grew by LiAnn Yim
348B Bathhouse Fish by LiAnn Yim
The fish were restless. They spun the water mossy dark until the pond was the color of crushed bottles.
349
(
audio
|
forum
)
The Island of White Houses by Alisa Alering
Today I am going to the island.
350
(
audio
|
forum
)
Trifecta XXX: Something Fishy
350A Kinda Like Salmon by Keffy Kehrli
350B In the Eyes of the Needy by Jonathan Schneeweiss
350C Sea Changes by Erica L. Satifka
Izam's fingers moved on their own. They found his sunken chest. And counted his ribs...
A stupid habit of a stupid boy. A stupid starving boy who counted his ribs when he was hungry...
351
(
audio
|
forum
)
DoubleHeader XVII: Camille Griep
351A The Spider by Camille Griep
351B One Night in Bangkok by Camille Griep
Professor Tina Montri rearranged her skirt and adjusted the alligator skin briefcase on her lap which held the presentation and research notes from her talk at the university. A breeze stirred on the back of her neck, warm and relaxing. She could almost fall asleep if it weren't for her precarious perch at the top of a tree.
Bsides 42
(
audio
|
forum
)
Chrysalis by Mary Robinette Kowal
Dear Grandma,
Your letters beat me to Husa and I've told the computer to dole them out at the intervals that you sent them. I got no idea why I'm telling you that, since there's zero chance you'll read this.
Bsides 44
(
audio
|
forum
)
Drabblecast Live Video Podcast
Bsides 44A Stunned by Jack Handey
Bsides 44B The Impatient Billionaire and the Mirror for Earth by B.J. Novak
Bsides 44C My Nature Documentary by Jack Handey
Three very entertaining stories on a Drabblecast live video podcast.
Bsides 46
(
audio
|
forum
)
The Hodag by Trent Hergenrader
Whitey McFarland's old coonhound Maggie dragged herself out of the forest, whimpering and yowling. Her skin hung off her sides in red flaps and her eyes rolled wildly.
Bsides 47
(
audio
|
forum
)
Statement in the Case by Theodora Goss
Sure, I know Istvan Horvath. We met about a year ago before Eva died. That's my wife, Eva. You knew that? Yah, I figured you were pretty thorough…
Bsides 48
(
audio
|
forum
)
Last Son of Tomorrow by Greg van Eekhout
John was born with powers and abilities far beyond those of mortal men, and he often wondered why. But as a boy, it was simply wonderful to have those abilities. He could lift his father's tractor overhead before he learned to read. He could outrace a galloping horse. He couldn't be cut or bruised or burned. He could fly…
Bsides 49
(
audio
|
forum
)
Trash by Daniel Setiawan
The day she left we forgot to take out the trash. At five-thirty in the morning, I heard the city trucks lumbering down the street with their mechanical, prehensile arms...
Bsides 51
(
audio
|
forum
)
Francisca Montoya?s Almanac of Things That Can Kill You by Shaenon Garrity
I am allergic to wool, soy, peanuts, and pollen. Only my peanut allergy can kill me.
Bsides 53
(
audio
|
forum
)
21 Steps to Enlightenment (Minus One) by LaShawn M. Wanak
When a spiral staircase appears in front of you, don't panic. Just know that if you place your feet on that first step, it shows commitment. You can't go back. You can only go up and up and up until you reach the very top.
Bsides 54
(
audio
|
forum
)
Sorry About Your Dog by David Ballard
I catch rattlesnakes and milk them for their venom back in my apartment - you'd be surprised how much money there is in that. Anyway, I had a young diamondback tied up in my gunnysack ... when damn if that sucker didn't just...
Bsides 55
(
audio
|
forum
)
The Lonely Child by Sharon Dodge
Something pricked Marla's hand.
Bsides 56
(
audio
|
forum
)
Tick Flick by Mike Allen
Greg jabbed Jeff's third shoulder, though he made sure he didn't hit hard enough to capsize the snack bucket...
Bsides 57
(
audio
|
forum
)
The Pain Peddlers by Robert Silverberg
The phone bleeped. Northrop nudged the cut-in switch and heard Maurillo say, "we got a gangrene, chief. They're amputating tonight."
Bsides 58
(
audio
|
forum
)
Copycrime by Ian Creasey
On a grey misty day in November 2028,the clock in Winston's room struck fourteen. He'd hacked the clock's mechanism to make his point. Old-fashioned clockwork was the only thing left that could still be hacked.