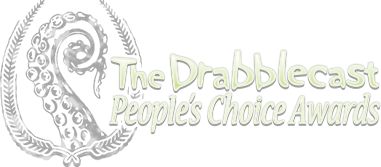 Best Story
Vote for your favorite story for the last Drabblecast year, from among the nominees.
Poll ends Monday, May 11th, at 11:59 PM, PDT
(Extended 1 week!)
---
Story Nominees:
Links are provided to both the audio/main page for each episode and for the forum thread for the same.
313 & 314
(
audio part 1
,
audio part 2
|
forum
)
The Blue Celeb by Desmond Warzel
When me and Joe got home from Vietnam, we went into business together, cutting hair. Bought a little shop in the old neighborhood and been there ever since. Back then, wisecracking Harlem barbers weren't a cliche yet — at least not south of 110th Street.
321
(
audio
|
forum
)
The Goat Cutter by Jay Lake
The devil lives in Houston by the ship channel in a high-rise apartment fifty-seven stories up. They say he's got cowhide sofas and a pinball machine and a telescope in there that can see past the oil refineries and across Pasadena all the way to the Pope in Rome and on to where them Arabs pray to that big black stone.
325
(
audio
|
forum
)
Jackalope Wives by Ursula Vernon
The moon came up and the sun went down. The moonbeams went shattering down to the ground and the jackalope wives took off their skins and danced.
331
(
audio
|
forum
)
Night of the Cooters by Howard Waldrop
Sheriff Lindley was asleep on the toilet in the Pachuco County courthouse when someone started pounding on the door.
335
(
audio
|
forum
)
To Whatever by Shaenon Garrity
To whatever lives in the walls—
Please stop taking my half & half.