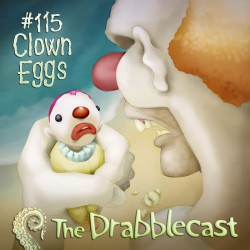 The spring tide rolled across Momus Beach, tossing the flaccid corpses of clowns like so many torn balloons. Weathered to a dispirited pallor, they twisted in the foamy surf with the eternally surprised expressions of the dead..
The Drabble describes either an apocalyptic event, or a simple machine. The feature introduces us to old "bull" clown Uncle Swarmy. It's not just another day at the beach. Learn more about the clown life cycle than you're comfortable with!
Podcast: Download
Originally published in
Abyss & Apex
, 2004.
Episode Art:
Bo Kaier
---
Twabble:
"The unfortunate explosion of the rabbit was gory, but mostly ironic given John's last comment: "And for my next trick…" "
by
LajesticVantrashellofLob
---
---