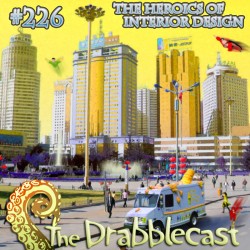 I can't fly faster than a speeding bullet. I can't lift a car. I can't climb slick surfaces with my bare hands or breath underwater or stop time. All I can do is change blue things to yellow. I didn't bother to buy a cape or a spandex suit like the others. I just bought a blouse and some slacks and went into interior design…
This episode of the Drabblecast explores the idea of being happy with yourself as a unique individual. In the drabble, the titular imaginary runner is invented as part of a game to pass time in the car, but meets a tragic end. In the feature, a woman with a minor Gift (turning blue things yellow) in a world of high-powered superheroes struggles to find a niche.
Podcast: Download
Subscribe: Apple Podcasts | Android | Stitcher | TuneIn | RSS
---
Twabble by Dolohov
My Angry Birds expertise proved me the best. The admirals all agreed I was Earth's last, best hope. My catapult awaited.
---