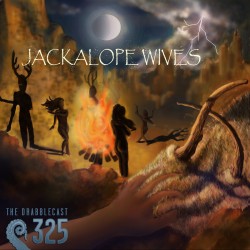 The moon came up and the sun went down. The moonbeams went shattering down to the ground and the jackalope wives took off their skins and danced.
They danced like young deer pawing the ground, they danced like devils let out of hell for the evening. They swung their hips and pranced and drank their fill of cactus–fruit wine.
They were shy creatures, the jackalope wives, though there was nothing shy about the way they danced. You could go your whole life and see no more of them than the flash of a tail vanishing around the backside of a boulder. If you were lucky, you might catch a whole line of them outlined against the sky, on the top of a bluff, the shadow of horns rising off their brows.
Podcast: Download
Subscribe: Apple Podcasts | Android | Stitcher | TuneIn | RSS
---
Twabble by JMiriah
At the hike's end we found seal skins scattered all over that beach. "Let's go," I said. "But first, let me take a Selkie."
---