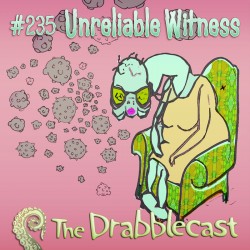 I don't know if this is the same tape as last time, because They keep moving things around and stealing them. I don't know who does it. It may be the staff here, or my own family when they come to visit, or the aliens, but somebody's always doing it — taking my glasses, my tapes, my TV remote, anything I put down for a second. I don't think it's the other residents. I used to think that, but I don't think they're that organized. Some of them are a bit senile, to tell you the truth…
In this episode of the Drabblecast, Catherine is an 89-year-old nursing home resident plagued by someone who keeps taking her things and a son and daughter-in-law who treat her like a child. When she gets a visit from an alien named Tom, they strike a bargain: He will tell her who the thief is if she tells him the secret to longevity. His race does not live to old age, they die after reaching breeding age and having children (the human equivalent of about 40 years old); he is trying to learn how to extend their lifespan. Despite her insistence that there is no secret he doesn't believe her, but does tell her no one is taking her stuff – she just can't keep track of it. Catherine thinks he is lying because he didn't like that she didn't have an answer for him and becomes convinced that the people who are taking her stuff are actually looking for alien, looking for clues about their existence among her possessions. She makes a tape recording of her experience, hoping that when they inevitably take the tape and listen to it they will realize they have no reason to continue stealing from her since she will freely tell them everything she knows. In the drabble, a young girl wakes up with a new set of stitches and doesn't stop searching until she finds the quarter the kidney fairy has left her.
Podcast (classics): Download
---
Twabble by TroyStJames
Even they don't fully understand the butterfly effect, yet they seem to love flapping those delicate and deadly wings.
---