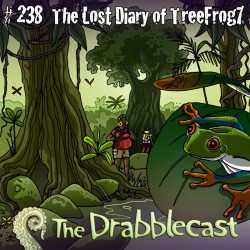 Translating… Appendix 820 of The Forbidden Greeny Jungle Field Guide. This series of audio files was created by TreeFrog7. It has been automatically translated into text
In this episode of the Drabblecast, heavily pregnant jungle explorer TreeFrog7 keeps a recorded diary of data she and her husband are collecting for the Forbidden Greeny Jungle Field Guide. As they close in on a legendary mature CPU plant (MCPU), a wild version of cultivated CPU plants used as personal computers, they encounter numerous jungle creatures including an enormous flightless moth protecting the plant. Despite its attacks, the explorers do not want to kill the moth in case the MCPU needs it to survive. While treed by the moth in the MCPU, TreeFrog7 gives birth to their daughter while her husband downloads the MCPU's data. Close enough to see the MCPU's monitor, they watch a rapidly shifting display of locations and symbols. TreeFrog7 realizes the images are getting closer to their own location and represent another explorer's collected data. Finally, the scene fades and the monitor shows only two eyes. The diary ends with an entry by an unknown voice that implies the explorers have themselves been collected. In the drabble, a teenage boy fails to convince an uninterested, gum-snapping girl that he understands her feelings of otherness and isolation.
Podcast: Download
Subscribe: Apple Podcasts | Android | Stitcher | TuneIn | RSS
---
Twabble by TroyStJames
Her whiskers tickled my cheek as she purred and explored my face. Who would have thought grandma was this affectionate?
---