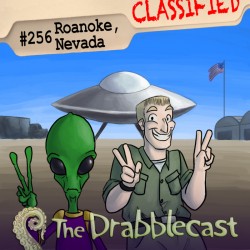 "It's the extra-terrestrials," the General said, watching for my reaction. "Our extra-terrestrials are falling ill."
"Really?" I couldn't keep the disbelief out of my voice. My eyes wandered back to the picture on the general's wall.
He noticed. "That's an untouched photo," he said. "The aliens are real, and they're here…"
Podcast: Download
Subscribe: Apple Podcasts | Android | Stitcher | TuneIn | RSS
Ad debug output
The ad is displayed on the page
current post: Drabblecast 256 - Roanoke, Nevada, ID: 5217
Ad: First Ad (9030)
Placement: After Content (after-content)
Find solutions in the manual
---
Twabble by Bell
"She'll ruin your faith with her casual lies," the phone sang. I never programmed that as her ringtone. Smart phone, eh?
---