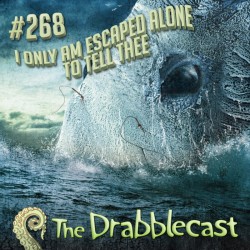 Whatever you do, don't call me Ishmael.
Don't call me anything at all. Give me my pint of piss-poor ale and leave me be in this yellowed corner where men relieve themselves when they are too lazy to make three extra stumbling steps to the streets of Nantucket. I am done. Finished. Come to this hole to die—and if you insist on speaking to me, I'll find a deeper hole than this dying excuse of a whaling town can offer…
Podcast: Download
Subscribe: Apple Podcasts | Android | Stitcher | TuneIn | RSS
---
Twabble by HR Duff and Stuff
The cabin attendant said that Infant Buoyancy Devices Were Available. In the water, four babies kept me nicely afloat.
---