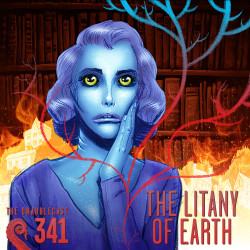 After a year in San Francisco, my legs grew strong again. A hill and a half lay between the bookstore where I found work and the apartment I shared with the Kotos. Every morning and evening I walked, breathing mist and rain into my desert-scarred lungs, and every morning the walk was a little easier. Even at the beginning, when my feet ached all day from the unaccustomed strain, it was a hill and a half that I hadn't been permitted for seventeen years.
Podcast: Download
Subscribe: Apple Podcasts | Android | Stitcher | TuneIn | RSS
Ad debug output
The ad is displayed on the page
current post: Drabblecast 341- The Litany of Earth, ID: 7683
Ad: First Ad (9030)
Placement: After Content (after-content)
Find solutions in the manual
---
Twabble by Pondspider
Death stalked the land. Actually, he rode a scooter delivering pizzas. Those scientists and their immortality serum.
---