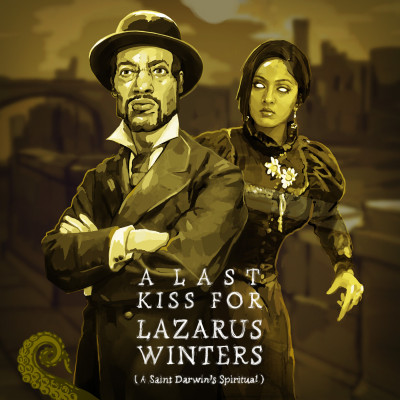 This episode of the Drabblecast brings you "A Last Kiss for Lazarus Winters," another story in D.K. Thompson's Saint Darwin's Spirituals series.
D.K. Thompson was the host and co-editor of PodCastle, a fantasy fiction podcast, for five years, and has narrated audiobooks by Tim Pratt, Greg van Eekhout, and James Maxey, among others.
Story Excerpt:
I was born again on New Year's Eve, full of broken promises, and slick and sticky with two kinds of blood. One of them was a ghost's. That didn't surprise me, though. I've seen my share of ghost blood.

I'd spent most of my life working with spirits and principalities — tracking ghosts, and making demands of them. That's what people hired me for. But I wasn't one of Darwin's spiritualists, though I'd read his Origin of the Spirits and wore the goggles he'd fashioned. No, the spiritualists aided the spirits, providing a bridge between the living and the dead to help care for them. Me? I took all of Charlie Darwin's studies and tools, and crossed those bridges to make certain demands of ghosts. I was a spiritual extortionist.
Podcast: Download
Subscribe: Apple Podcasts | Android | Stitcher | TuneIn | RSS